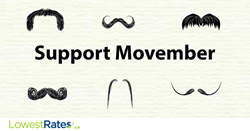 Toronto, Canada (PRWEB) November 06, 2014
LowestRates.ca is joining the fight against cancer this month by pledging to participate in Movember, the annual event where men grow moustaches to change the face of mens health.
Members of the LowestRates.ca team will grow their own moustaches in support of Movember, but the pledge extends further than that. LowestRates.ca is donating $ 20 to the Movember Foundation for every Canadian who purchases an auto insurance policy through the site by November 30th.
At LowestRates.ca we stand by our mission to save people time and money as they search for car insurance. But we also want to help Canadians in other ways too, and the Movember campaign is one of the most important causes we know of helping win the fight against cancer, said Cliff Ritter, Co-Founder of Lowest Rates Inc.
Between now and November 30, Canadians can snap photos of their own mustaches, and send the pictures to the LowestRates.ca team. Simply tweet the photo to @LowestRates_ca or post the pictures to the LowestRates.ca Facebook page. At the end of the month, all pictures will be grouped into a collage that will be shared on social media.
Its important to put your money where your moustache is. We encourage all Canadians to take part in Movember, whether its by sporting some facial hair of their own or making a donation, said Ritter.
LowestRates.ca provides cheap car insurance rates in most provinces and territories in Canada, with the exception of Manitoba, Saskatchewan, and British Columbia, where the provincial governments manage insurance.
About Lowest Rates Inc.
Based in Toronto, Canada, and founded in 2012, Lowest Rates Inc., through its websites LowestRates.ca and LowestRates.com, provides a free independent online service that helps consumers compare personal financial products offered by North Americas leading financial institutions. Lowest Rates Inc. helps people save time and money by allowing them to compare offers on mortgages, insurance and credit cards all in one place. Lowest Rates Inc. strives to become North Americas leader in providing consumers with the necessary tools and unbiased information they need to quickly and conveniently find the right personal financial products for their unique needs.

For more information visit LowestRates.ca and stay connected by following us on:
Twitter (@lowestrates_ca)

Facebook (http://www.facebook/lowestrates)

Blog (http://www.lowestrates.ca/blog)
Contact Information
Online marketing partnerships and opportunities:

Cliff Ritter, Chief SEO

cliff(at)lowestrates(dot)com